Attorney Profile
---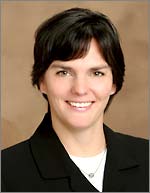 KARA W. EDMUNDS

Kara Edmunds moved from North Carolina to Boulder, Colorado in 2010. Because she was so intricately involved in the North Carolina legal community, she has been fortunate to receive a steady stream of referrals from that region. Given the technological advances we enjoy, she continues to represent many east coast clients against insurance companies who are spread throughout the nation. She officially opened the Edmunds Law Firm in 2012 and joined the Colorado Bar in 2014. She concentrates her practice in the representation of sick and injured individuals in cases arising from denied short and long term disability benefits, automobile vs. automobile/pedestrian/bicycle collisions, defective products injuries, slips and falls, and social security disability. Kara is a committed, thorough and experienced advocate for her clients.

Kara earned her undergraduate degree from the University of Virginia. She earned her law degree, with magna cum laude distinction, from The University of Georgia School of Law where she a member of the Editorial Board of the Georgia Law Review and the Order of the Coif. While in law school, Kara earned numerous academic awards and she was active in many public service activities, including the Equal Justice Foundation and the Legal Aid Foundation. Kara was a founding member of the Public Interest Project and she served as a volunteer in the Georgia Juvenile Court System.

Kara is admitted to the practice of law in Colorado, North Carolina, and in the Federal Court for the Middle District of North Carolina. Kara's resume, below, outlines her professional and academic affiliations, activities, and awards.

---
KARA W. EDMUNDS

EDUCATION:

University of Virginia
Charlottesville, Virginia, B.S.Ed. with Honors 1991

University of Georgia School of Law
Athens, Georgia, J.D. magna cum laude 1994

- Editorial Board, Georgia Law Review 1992-1993
- Notes Editor, Georgia Law Review 1993-94
- American Jurisprudence Award for Torts, 1991-92
- Class of 1933 Torts Award, 1991-92
- Law School Fund Endowment Recipient
- Tuition Equalization Scholarship Recipient
- Order of the Coif, Georgia Chapter
- Board Member, Equal Justice Foundation 1991-94
- Volunteer, Georgia Juvenile Court System 1993-94
- Founding Member, Public Interest Project 1992-94
- Legal Aid Foundation 1993-94

University of North Carolina
Greensboro, North Carolina
Completed 31 hours of coursework in the biological and natural sciences 1996-97

PROFESSIONAL:

Admitted to Practice, North Carolina 1994 (state bar no. 20943)
-U.S. Middle District of North Carolina, 1994

2000-2003
Contract Attorney, Smith Moore LLP, Greensboro, N.C.
Emphasis on insurance litigation

1997-1999
Contract Attorney, Joseph L. Anderson, P.C. Kernersville, NC
Emphasis on personal injury litigation

1996-1999
Medical Assistant, Guilford Orthopaedic & Sports Medicine, Greensboro, N.C.

1996-1997
Contract Attorney, Bryan Weckworth & Bullard Greensboro, NC
Emphasis on Social Security Disability

1994-1996
Associate, Smith Helms Mulliss & Moore, L.L.P., Greensboro, N.C.
Emphasis on general insurance litigation

PROFESSIONAL ACTIVITIES:

1994-Present
State Bar of North Carolina

1994-1996
North Carolina Bar Assocition
- Member, Litigation Section
- Member, Employment Law Section

PAPERS AND PRESENTATIONS:
Implying Damages Under the EAHCA: Franklin v. Gwinnett County Schools Adds New Fuel to the Argument, volume 4, Georgia Law Review.